How to Buy Cheaper and Live Better in Utah
OK, you're from out of state and you keep hearing these wonderful things about living in Utah. Or, you are already a local Utahn and thinking "how am I going to afford to buy and live here in this great state while not throwing all my money away in rent?" These are great questions that need to be addressed as it gets harder and harder to afford renting and/or buying in Utah. We've created a list with opportunity to do just those two things, enjoy and afford Utah at the same time!
One of Utah's greatest advantages is access. When you come to Utah, the realization of how quickly you can get to any outdoor activity your heart desires begins to crystalize. Utah has higher average speeds on the highways and freeway systems, making travel across the state quicker. You are also always next to a mountain range with hiking, biking, skiing, off-roading etc. available to you within minutes.
So, the good news is that most people think that they have to live inside the big city limits to be able to enjoy what the city and the outdoors have to offer, but they don't realize the ease of travel and proximity to your desired lifestyle actually are. There are opportunities to live in this great state, be close to all the big city activities, and also be within minutes of everything our many mountains have to offer without paying the high price of a house in the city. You can enjoy your lifestyle and afford it too by looking into our list of: Great cheap places to live in Utah.
1. Springville, UT:
Springville is an artist's town with growing popularity in Utah County. It is home to a little over 36,000 residents and is growing quickly. Lying along the I-15 corridor, Springville is easily accessible to everything in the state by car. It is a bedroom community for the commuters of the Provo/Orem and Salt Lake City metropolitan areas. It is roughly a 45 minute drive to downtown Salt Lake, or a 15 minute drive to Provo/Orem. Being close to all shopping in Utah county, Springville is also large enough to have big chain grocery stores alongside of the local markets. The average price of homes sold in January of 2023 is between $400,000-$500,000. It is also lower in property taxes and lots are typically a little larger.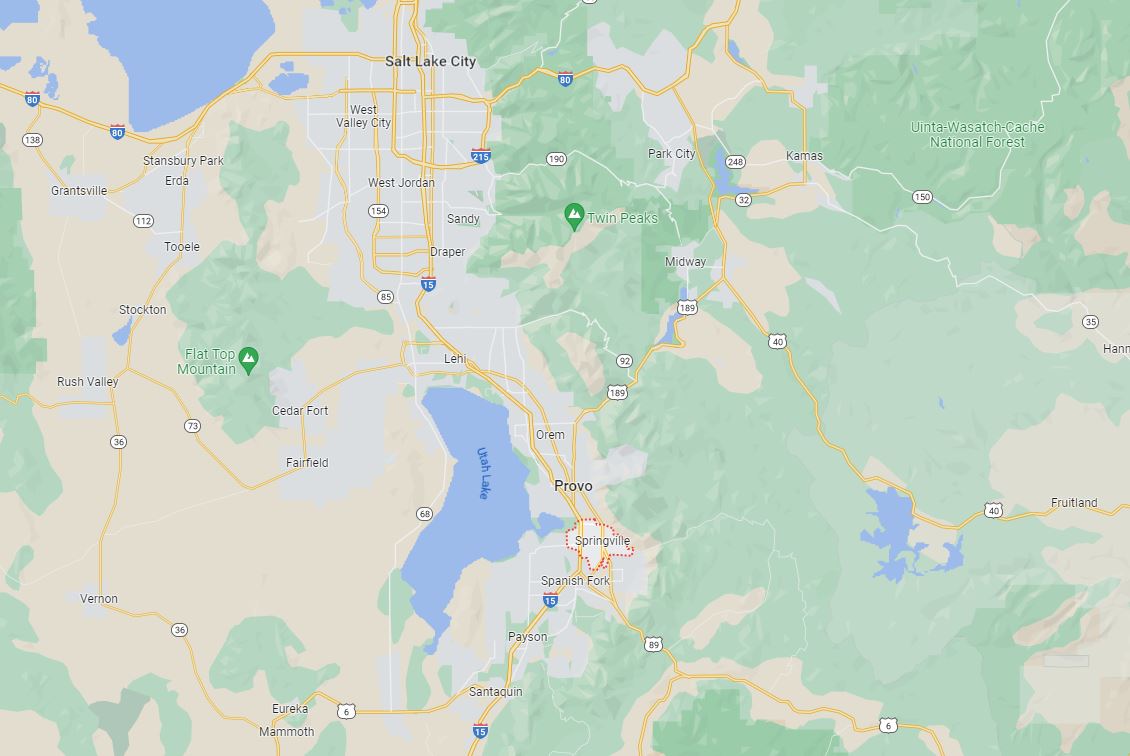 2. Saratoga Springs, UT:
Home to over 44,000 residents, Saratoga Springs sits on the western side of Utah lake in northern Utah County. Popularity of this town has exploded recently with homes, shopping, and golf courses popping up everywhere. It is situated behind Lehi to the East in getting to I-15, but also can connect to the Salt Lake Valley via Mountain View Corridor highway. This makes Saratoga Springs more accessible for commuters. The average price of homes sold in January of 2023 is between $500,000-$600,000. Slightly higher pricing makes this town harder to buy in, but closer to work for most working in Utah county.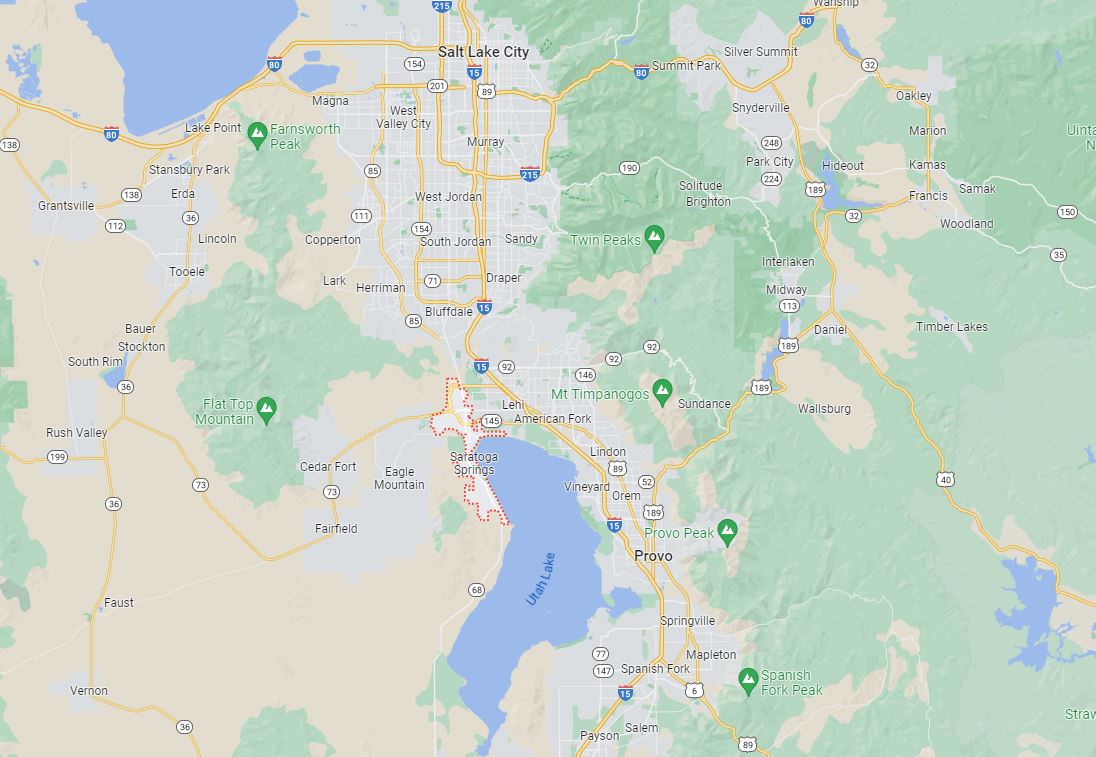 3. West Jordan, UT:
If living in the suburbs of Salt Lake sounds like your thing, West Jordan can play host to a 20-30 minute commute to Downtown Salt Lake City, while living in a average home price of about $520,000. You are in the Salt Lake Valley, but you are not paying the high prices of the east side bungalow cottages. West Jordan homes are typically a little larger, and more spread out than their older east side neighborhoods.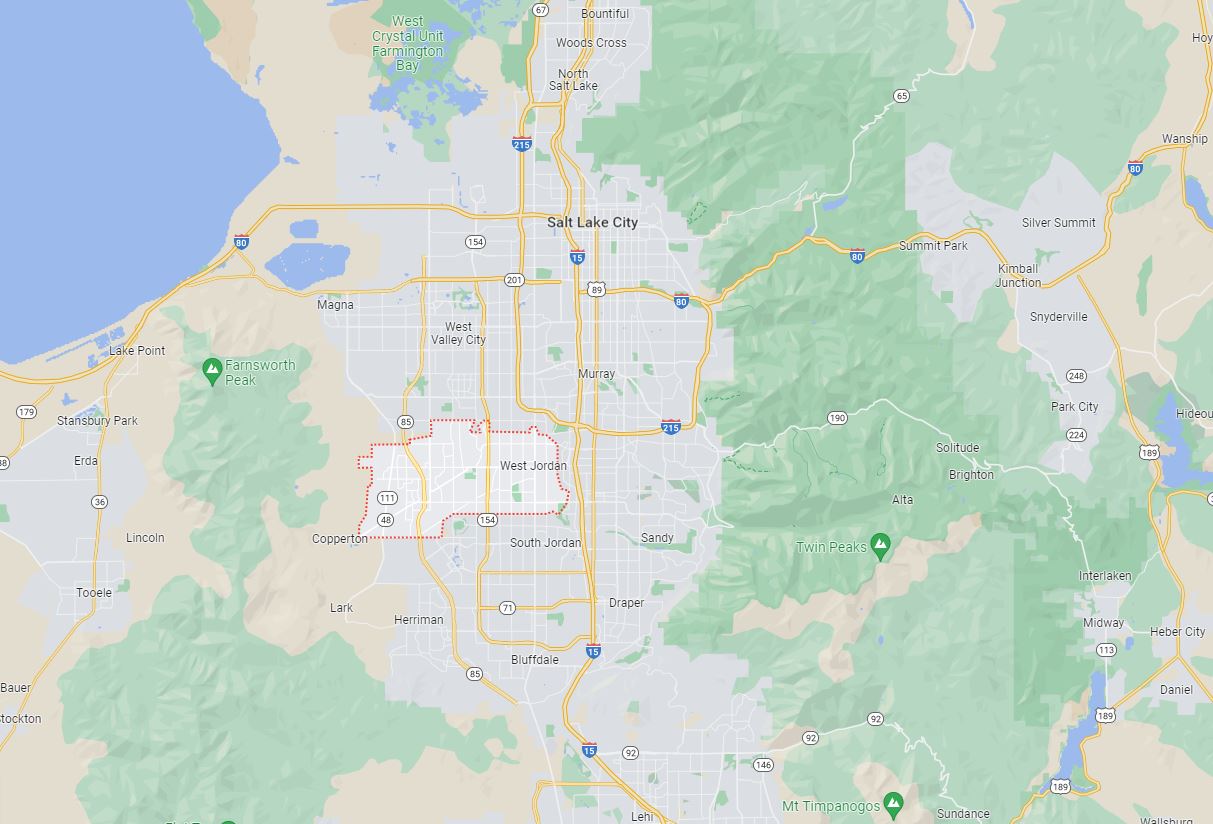 4. Tooele County, UT:
The county of Tooele (Two-will-a) in general is THE bedroom community to the Salt Lake Valley. The three biggest contributing towns are Stansbury Park, Grantsville and Tooele Proper. Buying a home here promises at least a 4 bedroom 2 bath house with 2300 sqft minimum to cost you as low as $350,000. The average home sale price in the county is $455,000. There are roughly 76,000 residents in the massive valley which makes it feel spread out and open. Commute time varies. Expect about 40 minute drive to downtown Salt Lake City from Tooele, 40 minutes from Grantsville, and 20 minutes from Stansbury Park.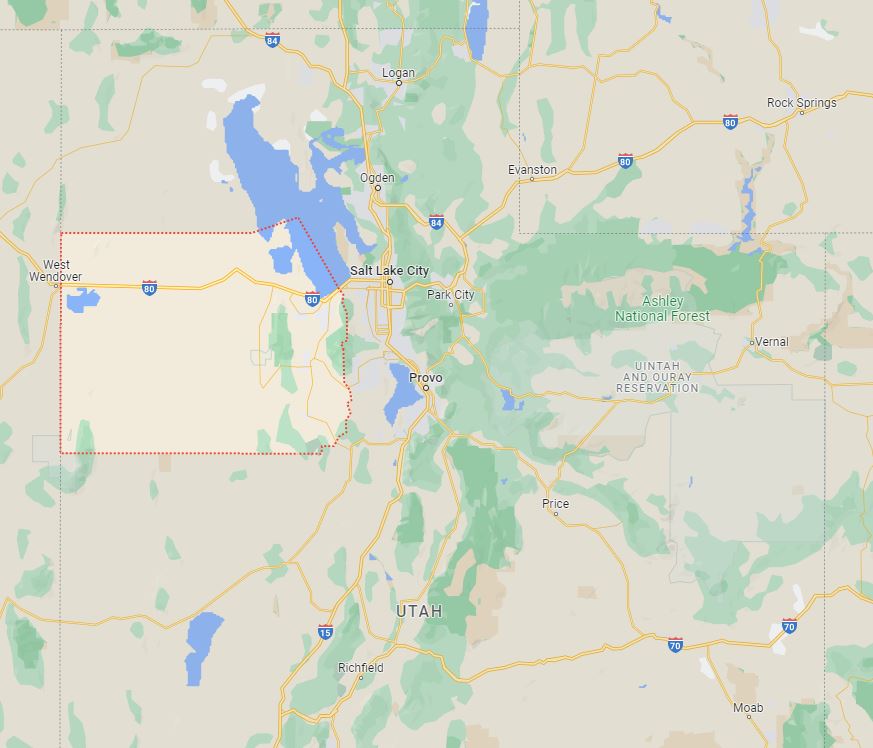 5. Juab County:
Made up for the most part by Nephi, Mona and Levan, Juab county offers you a small town feel with an hour commute. These towns are dominated by large lots, larger homes and local grocery stores, but with cheaper property price tags. Nephi is the largest town of the three and plays host to about 7000 residents. Cheap property taxes, cheaper cost of living and a more serious commute to the metropolitan areas will be the name of the game living here. But, the things that you do not sacrifice are the great outdoors. Living here, it is impossible to be indoors all the time. Fresh, clean mountain air and the mountains on your doorstep will force you to rethink big city life. The average cost of a home here is between $300,000- $400,000.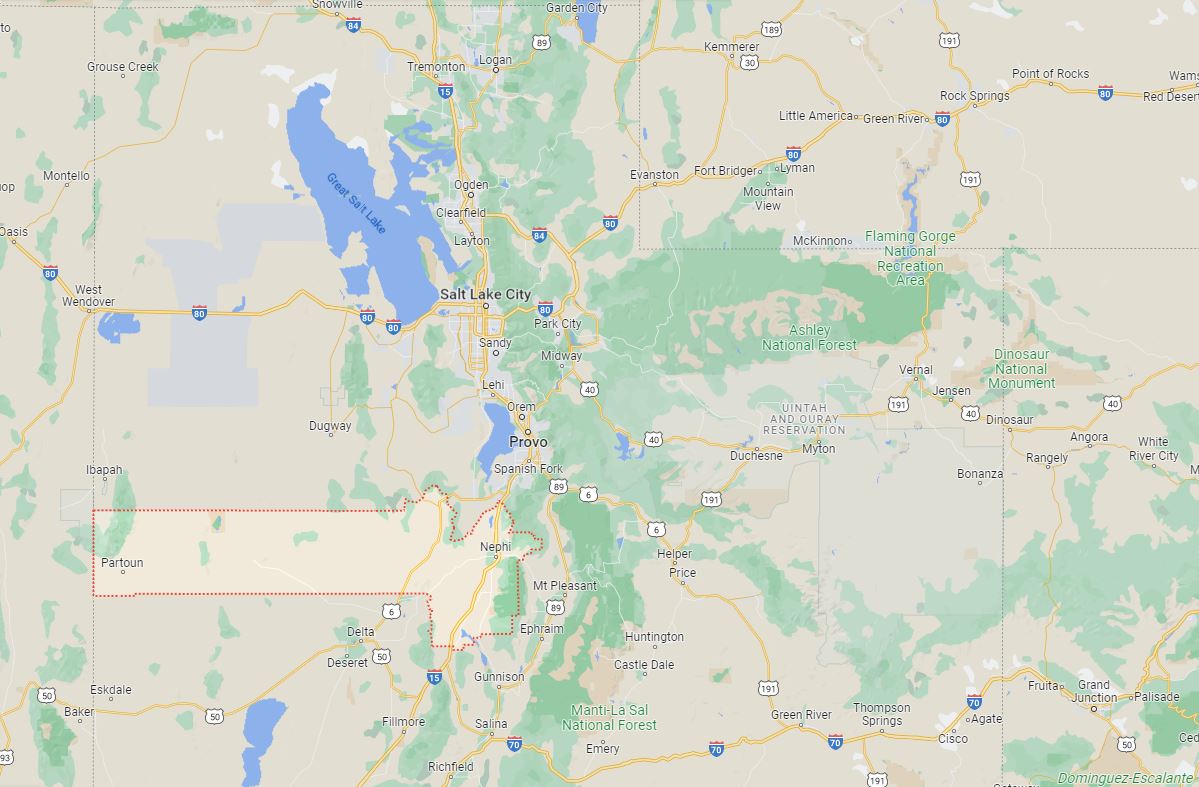 6. Ogden, UT
Let's talk about Ogden. With an average home sales price of $360,000, it is one of the cheapest places on our list. Yes, you still get the outdoors lifestyle. Yes, there is still the 40-50 minute commute to Downtown Salt Lake City. And yes, you still have cheaper property taxes. The downside? It is not the smaller town or new suburb feel. Ogden has been around longer than Salt Lake City itself. The city has a historical feel. Many Utahns agree that Ogden is slowly getting interest and money coming back into it, but it is still up and coming on a total refresh. It has many things to do in and around the city including some of Utah's best ski resorts, hiking, historic Union Station and 25th street, and Weber State University. It is close to Hill Airforce base in Layton and also is the closest "big city" before the Idaho border. Ogden houses about 86,000 residents.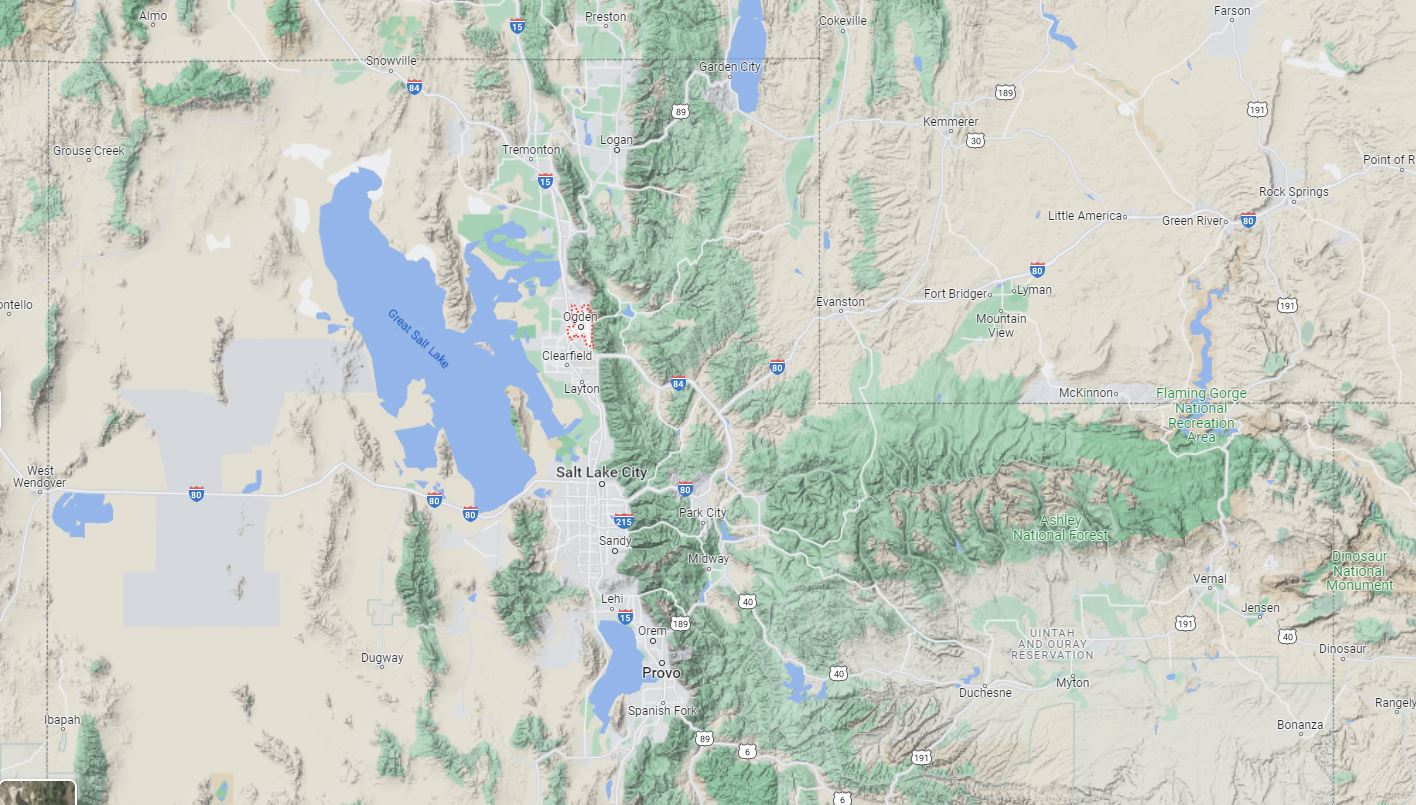 In conclusion, Utah has many smaller and more affordable places to live that will still provide you with an amazing outdoor lifestyle and ease of access to the big cities. Although we just named a couple in our list, there are many more that are slightly further away from the Salt Lake and Orem/Provo metro areas. Utah has so much to offer someone who wants the outdoor lifestyle and needs to have outdoor activities to challenge them year round. With 15 ski resorts, 5 national parks, 43 state parks, 7 national monuments, 2 national recreation areas, Utah motor Sports Campus and the Great Salt Flats for racing, this state is a playground for anyone not looking to live their life on the couch. Call us and get started on a gameplan to set your goals by letting us know what you're looking to accomplish. We can help you achieve those goals and guide you in being able to effectively live in Utah, enjoy the lifestyle and not break the wallet to live it!